Waking Famagusta
A Documentary by Vasia Markides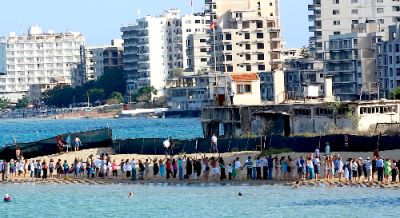 The feature length documentary, Waking Famagusta, contains two stories in one. The film will tell my personal story set within a broader struggle to reclaim and rebuild the occupied Cypriot city of Famagusta, and its neighboring ghost district of Varosha, as a thriving ecocity.

The first half of the film will highlight my explorations and discoveries as a Greek-Cypriot returning to the island after many years in the state of Maine. Inspired by the wisdom and teachings of my mother, who lost her family home in Varosha, I gathered a small team of talented individuals, and together we attempted the impossible – to transform this decaying, golden beach resort town into a sustainable ecocity.

The doc's first act uses home and news footage to show my first trip across the green line when I witnessed Varosha's ghost town in person — a day that would prove life-changing. During many recurrent trips that began in 2003, I rolled dozens of hours of video material that ended up becoming part of my thesis film, Hidden in the Sand.

During this time, I went through a huge shift in perspective. Meeting Turkish-Cypriot poet, teacher and architect, Ceren Bogac, helped me understand those who lived on the other side of the Cyprus divide. Bogac grew up in the shadow of the bombed-out remains that marked the closed-off section of Varosha. Over coffee, we discussed the dreams of a new generation of Cypriots, scheming a way to bring my mother's lofty idea to life. As the team expanded, we found ourselves one step closer to turning Famagusta into a model of ecology and peace in the troubled region.

For several months, our camera recorded the lightning momentum as Greek and Turkish Cypriot urban planners, engineers, economists, entrepreneurs, activists, architects, and artists came together to revive Famagusta. Much of the second half of Waking Famagusta chronicles the dizzying spiral of events that launched the project, leading to 2017, when a solution to the problems in Cyprus seemed imminent. Rather than focus on the negative or the political, this documentary highlights possibilities of profound social and ecological change in a historic city situated at the crossroads of three continents.

The story of the Famagusta Ecocity Project will have universal appeal since film festivals and digital platforms now seek out content that illuminates the troubling effects of climate change, while also offering solutions. Earth is reaching a crisis point, a treacherous point of no return. The Famagusta Ecocity Project could be a vital example of how to reverse the damage we have done to our planet. The dramatic narrative this documentary captures can give hope to an audience which can see that what we have achieved in Cyprus can be replicated anywhere.

Waking Famagusta is a global call to action that fights hopelessness, unites divided people, and improves communities so that humans can coexist in harmony with nature. If any city can be the starting point, it is Famagusta.

The Center For Independent Documentary is a 501C3 Corporation. All donations are full deductible as allowed by law. Our Federal ID# is 04-2738458.