Waking Famagusta
A Documentary by Vasia Markides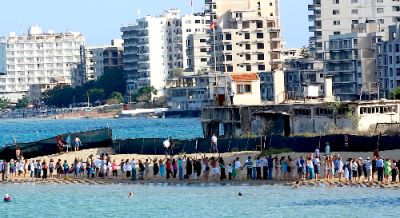 Waking Famagusta provides a historic snapshot of one of the most conflict-ridden regions in Europe revealed through a mother-daughter story of ancestral awakening and the birth of an international movement.

In 2003, Vasia Markides, captivated by her mother's stories of her birthplace, the divided city of Famagusta, on the war-torn Mediterranean island of Cyprus, decides to venture to her maternal ancestral land – a journey that would prove to be life-changing.

Vasia, just 24 at the time, becomes fixated with the ghost town of Varosha, the once booming tourist district of Famagusta, which has been surrounded in barbed wire for 44 years. Motivated by the fact that her family's home lies trapped within Varosha's rusty fences, she is hooked, filming for over a decade its abandoned neighborhoods and the Turkish Cypriots that now live along its perimeter. She befriends Ceren Bogac, who grew up facing these abandoned buildings her entire life. Vasia's own understanding of her island's history begins to unravel, setting into motion a chain of events that opens the door to an entirely new world, as surprising as it is revolutionary.

Emily, Vasia's mother, overcoming the pain of her loss, dreams to see the city revived as a model of ecology and peace in the troubled region. She manages to capture Vasia's imagination, leading her to pursue her mother's lifelong dream. Can Vasia, Emily and Ceren forge a new path ahead for the city, the island, and the region, with the motley crew of Greek- and Turkish-Cypriots they have gathered along the way?

If the island is reunited, Famagustians will be given the right to return home. When this happens, they will confront one of the largest reconstruction challenges Europe has seen since the end of World War II.

The Center For Independent Documentary is a 501C3 Corporation. All donations are full deductible as allowed by law. Our Federal ID# is 04-2738458.